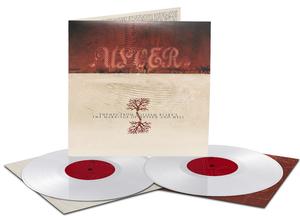 2LP released: Sep 03, 2021
| | |
| --- | --- |
| 1. | The Argument, Plate 2 (04:02) |
| 2. | Plate 3 (02:48) |
| 3. | Plate 3, Following (01:33) |
| 4. | The Voice Of The Devil, Plate 4 (02:49) |
| 5. | Plates 5-6 (02:31) |
| 6. | A Memorable Fancy, Plates 6-7 (04:26) |
| | |
| --- | --- |
| 1. | Proverbs Of Hell, Plates 7-10 (09:04) |
| 2. | Plate 11 (02:01) |
| 3. | Intro (03:26) |
| 4. | A Memorable Fancy, Plates 12-13 (05:55) |
| | |
| --- | --- |
| 1. | Plate 14 (02:08) |
| 2. | A Memorable Fancy, Plate 15 (04:51) |
| 3. | Plates 16-17 (03:17) |
| 4. | A Memorable Fancy, Plates 17-20 (11:23) |
| | |
| --- | --- |
| 1. | Intro (02:27) |
| 2. | Plates 21-22 (03:11) |
| 3. | A Memorable Fancy, Plates 22-24 (04:50) |
| 4. | Intro (03:59) |
| 5. | A Song Of Liberty, Plates 25-27 / Chorus Vocals (06:16) |
ULVER
THEMES FROM WILLIAM BLAKE`S THE MARRIAGE OF HEAVEN AND HELL (WHITE 2LP)
| | |
| --- | --- |
| Label: | PEACEVILLE |
| Cat No: | VILELP920 |
| Barcode: | 801056892010 |
| Packaging: | 2LP |
THE PARADIGM-SHIFTING FOURTH STUDIO OPUS FROM THE NORWEGIAN PIONEERS. PRESENTED ON DOUBLE GATEFOLD WHITE VINYL FORMAT & INCLUDING A RETROSPECTIVE LOOK AT THE ALBUM COURTESY OF WRITER JEFF WAGNER.

'Themes from William Blake's The Marriage of Heaven and Hell' is the fourth studio album by Norwegian experimentalists Ulver.

Having been known for their more folklore-tinged black metal compositions on early studio releases, in late 1997, main man Kristoffer Rygg invited keyboardist, sound conceptualist, and composer Tore Ylwizaker into the collective, and together they devised a plan for The Blake album, an altogether far more adventurous endeavour than prior releases.

What resulted was a seamless integration of electronic and industrial music, with elements of progressive metal and avant-garde rock, all fused with ambient passages while following Blake's plates as track indexes. Upon release, the album received widespread acclaim from critics within the rock, metal and alternative music press, being awarded Album of the Month in several high-profile magazines such as Terrorizer, Metal Hammer, and Rock Hard.

The album notably includes guest vocal appearances from Darkthrone's Fenriz, as well as Ihsahn & Samoth; most known for their work in Emperor.

This newly remastered edition of 'The Marriage of Heaven & Hell' is presented on double gatefold white vinyl, including full lyrics/text, plus a new article from writer and journalist Jeff Wagner on the background, nature & triumph of such an ambitious release.