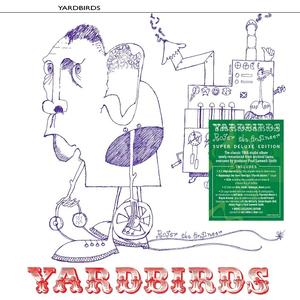 2LP + 7IN released: Jun 25, 2021
| | |
| --- | --- |
| 1. | Lost Women (Mono Version) |
| 2. | Over, Under, Sideways, Down (Mono Version) |
| 3. | The Nazz Are Blue (Mono Version) |
| 4. | I Can't Make Your Way (Mono Version) |
| 5. | Rack My Mind (Mono Version) |
| 6. | Farewell (Mono Version) |

| | |
| --- | --- |
| 7. | Hot House Of Omagararshid (Mono Version) |
| 8. | Jeff's Boogie (Mono Version) |
| 9. | He's Always There (Mono Version) |
| 10. | Turn Into Earth (Mono Version) |
| 11. | What Do You Want (Mono Version) |
| 12. | Ever Since The World Began (Mono Version) |

| | |
| --- | --- |
| 1. | Lost Women (Stereo Version) |
| 2. | Over, Under, Sideways, Down (Stereo Version) |
| 3. | The Nazz Are Blue (Stereo Version) |
| 4. | I Can't Make Your Way (Stereo Version) |
| 5. | Rack My Mind (Stereo Version) |
| 6. | Farewell (Stereo Version) |

| | |
| --- | --- |
| 7. | Hot House Of Omagararshid (Stereo Version) |
| 8. | Jeff's Boogie (Stereo Version) |
| 9. | He's Always There (Stereo Version) |
| 10. | Turn Into Earth (Stereo Version) |
| 11. | What Do You Want (Stereo Version) |
| 12. | Ever Since The World Began (Stereo Version) |

| | |
| --- | --- |
| 1. | Happenings Ten Years Time Ago (7-inch) |
| 2. | Psycho Daisies (7-inch) |

| | |
| --- | --- |
| 1. | Lost Women (Mono Version) |
| 2. | Over, Under, Sideways, Down (Mono Version) |
| 3. | The Nazz Are Blue (Mono Version) |
| 4. | I Can't Make Your Way (Mono Version) |
| 5. | Rack My Mind (Mono Version) |
| 6. | Farewell (Mono Version) |

| | |
| --- | --- |
| 7. | Hot House Of Omagararshid (Mono Version) |
| 8. | Jeff's Boogie (Mono Version) |
| 9. | He's Always There (Mono Version) |
| 10. | Turn Into Earth (Mono Version) |
| 11. | What Do You Want (Mono Version) |
| 12. | Ever Since The World Began (Mono Version) |

| | |
| --- | --- |
| 1. | Lost Women (Stereo Version) |
| 2. | Over, Under, Sideways, Down (Stereo Version) |
| 3. | The Nazz Are Blue (Stereo Version) |
| 4. | I Can't Make Your Way (Stereo Version) |
| 5. | Rack My Mind (Stereo Version) |
| 6. | Farewell (Stereo Version) |

| | |
| --- | --- |
| 7. | Hot House Of Omagararshid (Stereo Version) |
| 8. | Jeff's Boogie (Stereo Version) |
| 9. | He's Always There (Stereo Version) |
| 10. | Turn Into Earth (Stereo Version) |
| 11. | What Do You Want (Stereo Version) |
| 12. | Ever Since The World Began (Stereo Version) |

| | |
| --- | --- |
| 1. | Mr. Zero -keith Relf |
| 2. | Knowing -keith Relf |
| 3. | Hot House Of Omagararshid (Alternate Mono Mix) |
| 4. | He's Always There (Alternate Stereo Mix) |
| 5. | Turn Into Earth (Early Mix) |
| 6. | Turn Into Earth (Vocal Track) |
| 7. | Turn Into Earth (Alternate Stereo Mix) |
| 8. | Ever Since The World Began (Vocal Track) |

| | |
| --- | --- |
| 9. | I Can't Make Your Way (Alternate Stereo Mix) |
| 10. | Great Shakes Commercial (Version 1) |
| 11. | Great Shakes Commercial (Version 2) |
| 12. | Shapes In My Mind (Version 1) -keith Relf |
| 13. | Shapes In My Mind (Version 2) -keith Relf |
| 14. | Happenings Ten Years Time Ago |
| 15. | Psycho Daisies |
| 16. | Stroll On |
THE YARDBIRDS
THE YARDBIRDS (ROGER THE ENGINEER) SUPER DELUXE BOX SET (INDIES EXCLUSIVE)
| | |
| --- | --- |
| Label: | DEMON |
| Cat No: | DEMRECBOX55IN |
| Barcode: | 5014797905733 |
| Packaging: | 2LP + 7IN |
INDIE EXCLUSIVE EDITION

Super deluxe edition includes two 180gm vinyl LPs, 7" single, three CDs, 12x12 booklet, and poster.

Demon Records is proud to present the ultimate reissue of The Yardbirds' 1966 album Yardbirds (often referred to as Roger the Engineer).
Recorded by the classic line up of Jeff Beck, Keith Relf, Jim McCarty, Chris Dreja and Paul Samwell-Smith, this super deluxe edition features new and definitive remastering by Phil Kinrade at Alchemy Mastering at AIR, overseen by original album producer Paul Samwell-Smith. Includes mono and stereo mixes of the album on LP and CD, ôHappenings Ten Years Time Agoö seven inch single, and a third CD that contains newly remastered non-album singles, rare alternate versions, and a previously unreleased early mix of 'Turn Into Earth' which reveals a searing guitar solo by Jeff Beck.

24-page 12" x 12" booklet -Includes rare memorabilia and photographs, an exclusive introduction by Jeff Beck, testimonials by Sonic Youth's Thurston Moore and MC5's Wayne Kramer, plus an extensive essay and track-by-track liner notes by David French based on new interviews with Jimmy Page, Paul Samwell-Smith, Jim McCarty and Simon Napier-Bell.
A2 fold-out poster inspired by the original 'Over, Under, Sideways, Down' single release advertisement.