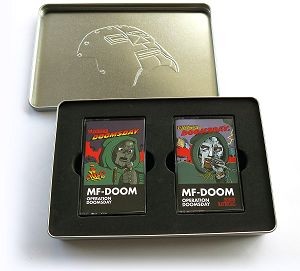 2MC released: Oct 24, 2011
(Item no longer available)
| | |
| --- | --- |
| 1. | The Time We Faced Doom (Skit) |
| 2. | Doomsday |
| 3. | Rhymes Like Dimes (Featuring Cucumber Slice) |
| 4. | The Finest (Featuring Tommy Gunn) |
| 5. | Back In The Days (Skit) |
| 6. | Go With The Flow |
| 7. | Tick, Tick... (Featuring Mf Grimm) |
| 8. | Red And Gold (Featuring King Ghidra) |

| | |
| --- | --- |
| 9. | The Hands Of Doom (Skit) |
| 10. | Who You Think I Am (Featuring King Ceasar, Rodan, Megalon, Kamakiras & Kong) |
| 11. | Doom, Are You Awake (Skit) |
| 12. | Hey!Operation Greenbacks (Featuring Megalon & King Ghidra) |
| 13. | The Mic |
| 14. | The Mystery Of Doom (Skit) |
| 15. | Dead Bentgas Drawls |
| 16. | ? (Featuring Kurious) |
| 17. | Hero Vs. Villain (Epilogue) (Featuring E. Mason) |

| | |
| --- | --- |
| 1. | Dead Bent (Original 12"version) |
| 2. | Gas Drawls (Original 12"version) |
| 3. | Hey! (Original 12"version) |
| 4. | Greenbacks (Original 12"version) |
| 5. | Go With The Flow (Feat. Sci.Fly) (Original 12"version) |
| 6. | Go With The Flow (Raw Rhymes) |
| 7. | I Hear Voices Pt. 1 (Original 12" Cleanversion) |
| 8. | I Hear Voices Pt. 2 (Feat. Mf Grimm) (Original 12" Cleanversion) |
| 9. | Tick, Tick (Original 12" Main Mixversion) |
| 10. | ? (Extended Raw Rhymesversion) |
| 11. | Dead Bent (Original 12" Instrumentalversion) |

| | |
| --- | --- |
| 12. | Gas Drawls (Original 12" Instrumentalversion) |
| 13. | Hey! (Original 12" Instrumentalversion) |
| 14. | Greenbacks (Original 12" Instrumentalversion) |
| 15. | The Mic (Original 12" Instrumentalversion) |
| 16. | Red And Gold (Original 12" Instrumentalversion) |
| 17. | I Hear Voices (Original 12" Instrumentalversion) |
| 18. | Doomsday (Instrumental) |
| 19. | Rhymes Like Dimes (Instrumental) |
| 20. | The Finest (Instrumental) |
| 21. | The Hands Of Doom (Instrumental) |
| 22. | Who You Think I Am (Instrumental) |
| 23. | ? (Instrumental) |
MF DOOM
OPERATION DOOMSDAY
| | |
| --- | --- |
| Label: | TRAFFIC |
| Cat No: | MF1104-AC |
| Barcode: | 0829357110442 |
| Packaging: | 2Cassette |
Our supplier has presented this title as available for us to order, we have it on backorder with them awaiting fulfillment. If there are any extended delays your order will be cancelled and refunded in full.
SOLD OUT
N/A
Though currently considered one of the most legendary releases in hip hop's storied history the project was independently produced and released in 1999 and issued on Bobbito's Fondle 'Em imprint, Stripped down hip-hop in all it's glory, the release cemented the MC's return to the scene after his early years in the group KMD.
As the story goes, DOOM had been chewed up and spit out of the major label system, lost his brother and musical partner Subroc, and then disappeared only to return to the stage rocking a mask and an obscured identity.
In under two years, OPERATION DOOMSDAY was already reissued on another label with an altered track list, During the time DOOM started working with Madlib on the Madvillain record, DOOMSDAY went out of print, got bootlegged, and somewhere along the way emerged as a hip-hop classic.
DOOM's own imprint Metalface Records finally re-issued the definitive version of the remastered album in 2011 - a CD (in a lunch box) and metal-covered 4LP set was released.
Now we are proud to present Metalface's cassette edition of OPERATION DOOMSDAY, Housed in a metal box the set contains two cassettes, Tape 1 features the original album and original cover by Lord Scotch 79 (Blake "KEO" Lethem), Tape 2 collects the instrumentals, b-sides and alternate versions, along with the 2011 album cover by Jason Jagel.