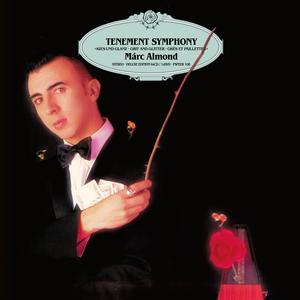 6CD + DVD released: Oct 13, 2023
| | |
| --- | --- |
| 1. | Prelude |
| 2. | Jacky |
| 3. | What Is Love? |
| 4. | Trois Chansons De Bilitis - Extract |
| 5. | The Days Of Pearly Spencer |
| 6. | My Hand Over My Heart |
| 7. | Meet Me In My Dream |
| 8. | Beautiful Brutal Thing |

| | |
| --- | --- |
| 9. | I've Never Seen Your Face |
| 10. | Vaudeville & Burlesque |
| 11. | Champagne |
| 12. | Bruises |
| 13. | Deadly Serenade |
| 14. | Deep Night (7in Mix) |
| 15. | A Love Outgrown |
| 16. | Night And No Morning |
| 17. | Money For Love (Ennio Mix) |

| | |
| --- | --- |
| 1. | Jacky (Youth 7in Remix) |
| 2. | My Hand Over My Heart (Single Mix) |
| 3. | The Days Of Pearly Spencer (The German 7in Mix) |
| 4. | What Is Love? (7in Edit) |
| 5. | Like A Prayer |
| 6. | Jacky (Youth 12in Remix) |

| | |
| --- | --- |
| 7. | My Hand Over My Heart (Grit And Glitter Mix) |
| 8. | Dancing In A Golden Cage |
| 9. | Deep Night (12in Mix) |
| 10. | Money For Love (Fiddle Mix) |
| 11. | Jacky (Alpine Dub) |
| 12. | My Hand Over My Heart (John Coxon 12in Mix) |
| 13. | Dancing In A Golden Cage (Reflection In A Golden Eye) |

| | |
| --- | --- |
| 1. | My Hand Over My Heart (Special Radio Edit) |
| 2. | What Is Love? (Larrabee 5th Mix) |
| 3. | Jacky (12in Phil Harding Dub) |
| 4. | Deadly Serenade (Acoustic Mix) |
| 5. | Beautiful Brutal Thing (7in Remix) |
| 6. | Dancing In A Golden Cage (Mr B's Supa Dub) |

| | |
| --- | --- |
| 7. | My Hand Over My Heart (No Strings) |
| 8. | Champagne (Early Version) |
| 9. | Meet Me In My Dream (Rough Mix) |
| 10. | What Is Love? (Larrabee Echo Mix) |
| 11. | Beautiful Brutal Thing (12in Techno Remix) |
| 12. | My Hand Over My Heart (John Coxon Dub Mix) |
| 13. | Champagne (Backing Track With Piano) |

| | |
| --- | --- |
| 1. | Jacky (Live At Liverpool Philharmonic Hall, 1992) |
| 2. | Meet Me In My Dream (Live At Liverpool Philharmonic Hall, 1992) |
| 3. | Champagne (Live At Liverpool Philharmonic Hall, 1992) |
| 4. | Vaudeville & Burlesque ('as Live' Video Soundtrack, Twelve Years Of Tears, 1992) |
| 5. | I've Never Seen Your Face ('as Live' Video Soundtrack, Twelve Years Of Tears, 1992) 6 Beautiful Brutal Thing ('as Live' Video Soundtrack, Twelve Years Of Tears, 1992) |

| | |
| --- | --- |
| 7. | Champagne ('as Live' Video Soundtrack, Twelve Years Of Tears, 1992) |
| 8. | Jacky ('as Live' Video Soundtrack, Twelve Years Of Tears, 1992) |
| 9. | The Days Of Pearly Spencer ('as Live' Video Soundtrack, Twelve Years Of Tears, 1992) |
| 10. | My Hand Over My Heart ('as Live' Video Soundtrack, Twelve Years Of Tears, 1992) |
| 11. | Meet Me In My Dream (Twelve Years Of Tears, Live 1992) |

| | |
| --- | --- |
| 1. | Jacky (Live At The Union Chapel, 2000) |
| 2. | The Days Of Pearly Spencer (Live At Leicester Cathedral, 2000) |
| 3. | Champagne (Live At Leicester Cathedral, 2000) |
| 4. | Night And No Morning (Live At Leicester Cathedral, 2000) |
| 5. | Jacky (Live At The Lokerse Festival, 2000) |
| 6. | My Hand Over My Heart (Live At The Lokerse Festival, 2000) 7 The Days Of Pearly Spencer (Live At The Lokerse Festival, 2000) |

| | |
| --- | --- |
| 8. | Jacky (Live At The Playhouse Theatre, 2016) |
| 9. | The Days Of Pearly Spencer (Cowboy Version Demo) |
| 10. | What Is Love? (Demo) |
| 11. | Jacky (Demo) |
| 12. | My Hand Over My Heart (Orchestral Sections Demo) |
| 13. | The Days Of Pearly Spencer (Demo) |

| | |
| --- | --- |
| 2. | Jacky (12? Phil Harding & Ian Curnow Remix) |
| 3. | What Is Love? (Moody Vocal Mix) |
| 4. | Beautiful Brutal Thing (12in Remix) |
| 5. | What Is Love? (Moody Vocal Mix #2) |

| | |
| --- | --- |
| 6. | Jacky (Backing Track) |
| 7. | My Hand Over My Heart (Backing Track) |
| 8. | The Days Of Pearly Spencer (Backing Track) |
| 9. | What Is Love? (Backing Track) |

| | |
| --- | --- |
| 1. | Jacky (Promo Video) |
| 2. | My Hand Over My Heart (Promo Video) |
| 3. | The Days Of Pearly Spencer (Promo Video) |

| | |
| --- | --- |
| 4. | Jacky (Wogan 7/9/91) |
| 5. | The Days Of Pearly Spencer (Bruce's Guest Night 17/4/92) 6 The Days Of Pearly Spencer (Pebble Mill 28/4/92) |
| 7. | The Days Of Pearly Spencer (Top Of The Pops 30/4/92) |
| 8. | The Days Of Pearly Spencer (Good Morning Summer 5/7/95) |
MARC ALMOND
TENEMENT SYMPHONY (LIMITED EDITION DELUXE 6CD/DVD BOX SET)
| | |
| --- | --- |
| Label: | SFE |
| Cat No: | PSFEDX108 |
| Barcode: | 5013929851849 |
| Packaging: | 6CD + DVD Box Set |
The actual Trevor Horn produced 'Tenement Symphony' sequence opens CD1 as was his original intention, with the dramatic statement of the orchestral 'Prelude' as a precursor to the intoxicating energy of lead hit single, 'Jacky', as written by Jacques Brel.

'Tenement Symphony' was an attempt, at the time, to make the definitive Marc Almond album as masterminded by Warner Music UK's then chairman Rob Dickins. The effect of the album was meant to be like looking through the windows of different rooms in a tenement building and hearing a bouquet of narrative songs about disparate characters residing therein. It saw the first post-breakup rekindling of the songwriting partnership with Soft Cell's Dave Ball (with The Grid's Richard Norris) on the three techno-torch tracks 'Meet Me In My Dream', 'I've Never Seen Your Face' and UK hit 'My Hand Over My Heart'. It was an album that also featured three co-writes with Marc's long-standing collaborator and arranger Billy McGee (Marc & The Mambas, The Willing Sinners) on the emotionally charged tracks 'Vaudeville & Burlesque', 'Beautiful Brutal Thing' and 'Champagne'.

Complementing the 11 tracks of the original album on CD 1 are a collection of songs which were used as B-sides to the different formats of the album's three hit singles, 'Jacky' (UK#17), 'My Hand Over My Heart' (UK#33) and 'The Days Of Pearly Spencer' (UK#4). Many of these 'B-sides evidence such stellar songwriting quality that they could have easily created a double album back in the day to showcase all the contemporaneous contributing talents of Trevor Horn, The Grid, John Coxon and Billy McGee.

CD2 collates the officially released remixes, extended versions, lesser heard 7" version variants of the album's singles and more! Tracks worth singling out are Marc's joyous cover version of Madonna's 'Like A Prayer', a previously unheard John Coxon 12" Mix of 'My Hand Over My Heart' and the 7" edit of the shelved 4th single from the album, 'What Is Love?'

Further insights into the repertoire that made up the 'Tenement Symphony' album project are contained in the exclusive four CDs that follow the development of the album's songs through the inclusion of early versions, demos, variant mixes, backing tracks and live renditions including multiple unheard remixes of unreleased singles 'What Is Love?' and 'Beautiful Brutal Thing' and the unissued Phil Harding and Ian Curnow Remix of 'Jacky'. The package also contains a 32-page booklet full of lyrics, photos and listening notes and a fold out poster.

" First ever deluxe expanded edition of Marc Almond's landmark seventh studio album.

" Originally released in 1991, this collaboration with Trevor Horn yielded three Top 40 UK hits!

" Exclusive to this boxed edition are four unique CDs adding to a total 76 audio tracks, 34 of them never previously having been commercially released. Plus a DVD that showcases all three promo videos and Marc Almond's five contemporaneous BBC TV appearances.