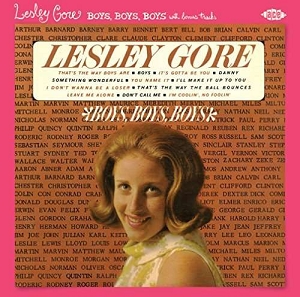 CD released: May 27, 2016
(Item no longer available)
| | |
| --- | --- |
| 1. | That's The Way Boys Are |
| 2. | Boys |
| 3. | It's Gotta Be You |
| 4. | Something Wonderful |
| 5. | You Name It |
| 6. | Danny |
| 7. | I Don't Wanna Be A Loser |
| 8. | That's The Way The Ball Bounces |
| 9. | Leave Me Alone |
| 10. | Don't Call Me |
| 11. | I'll Make It Up To You |
| 12. | I'm Coolin', No Foolin' |

| | |
| --- | --- |
| 13. | It's My Party |
| 14. | Just Let Me Cry |
| 15. | No More Tears |
| 16. | Judy's Turn To Cry |
| 17. | She's A Fool |
| 18. | The Old Crowd |
| 19. | Hello Young Lover |
| 20. | Sunshine, Lollipops And Rainbows |
| 21. | You Don't Own Me |
| 22. | Run Bobby Run |
| 23. | I Struck A Match |
| 24. | If That's The Way You Want It |
| 25. | Time To Go |
LESLEY GORE
BOYS, BOYS, BOYS
| | |
| --- | --- |
| Label: | ACE |
| Cat No: | CDCHD1473 |
| Barcode: | 0029667076029 |
| Packaging: | CD Regular |
Our supplier has presented this title as available for us to order, we have it on backorder with them awaiting fulfillment. If there are any extended delays your order will be cancelled and refunded in full.
SOLD OUT
N/A
We complete our reissue programme of Lesley Gore's Mercury catalogue with this expanded edition of her third album, 1964's "Boys, Boys, Boys".
The 13 bonus tracks, recorded in 1963, include some of her greatest hits.
All 25 tracks arranged and conducted by Claus Ogerman and produced by the great Quincy Jones.
The booklet features notes by Sam Szczepanski and a colourful array of rare memorabilia.