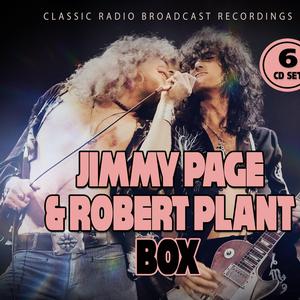 6CD released: Feb 10, 2023
| | |
| --- | --- |
| 1. | Intro - Jimmy Page, Robert Plant |
| 2. | The Wanton Song - Jimmy Page, Robert Plant |
| 3. | Bring It On Home - Jimmy Page, Robert Plant |
| 4. | Heartbreaker - Jimmy Page, Robert Plant |
| 5. | Ramble On - Jimmy Page, Robert Plant |

| | |
| --- | --- |
| 6. | Walking Into Clarksdale - Jimmy Page, Robert Plant |
| 7. | No Quarter - Jimmy Page, Robert Plant |
| 8. | Shining In The Light - Jimmy Page, Robert Plant |
| 9. | Going To California - Jimmy Page, Robert Plant |
| 10. | Tangerine - Jimmy Page, Robert Plant |

| | |
| --- | --- |
| 1. | Gallows Pole - Jimmy Page, Robert Plant |
| 2. | Heart In Your Hand - Jimmy Page, Robert Plant |
| 3. | Babe I'm Gonna Leave You - Jimmy Page, Robert Plant |
| 4. | How Many More Times (Inc. Season Of The Witch) - Jimmy Page, Robert Plant |

| | |
| --- | --- |
| 5. | Most High - Jimmy Page, Robert Plant |
| 6. | Whole Lotta Love - Jimmy Page, Robert Plant |
| 7. | Thank You - Jimmy Page, Robert Plant |
| 8. | Rock & Roll - Jimmy Page, Robert Plant |

| | |
| --- | --- |
| 1. | Egyptian Tape Intro - Jimmy Page, Robert Plant |
| 2. | Heartbreaker - Jimmy Page, Robert Plant |
| 3. | Bring It On Home - Jimmy Page, Robert Plant |
| 4. | Custard Pie - Jimmy Page, Robert Plant |
| 5. | Ramble On - Jimmy Page, Robert Plant |
| 6. | Tangerine - Jimmy Page, Robert Plant |

| | |
| --- | --- |
| 7. | Thank You - Jimmy Page, Robert Plant |
| 8. | Hurdy Gurdy Solo - Jimmy Page, Robert Plant |
| 9. | Gallows Pole - Jimmy Page, Robert Plant |
| 10. | The Rain Song - Jimmy Page, Robert Plant |
| 11. | The Song Remains The Same - Jimmy Page, Robert Plant |
| 12. | Tea For One - Jimmy Page, Robert Plant |

| | |
| --- | --- |
| 1. | Introduction Of The Egyptian Pharaohs - Jimmy Page, Robert Plant |
| 2. | Dancing Days - Jimmy Page, Robert Plant |
| 3. | In The Evening - Jimmy Page, Robert Plant |
| 4. | Four Sticks - Jimmy Page, Robert Plant |

| | |
| --- | --- |
| 5. | Kashmir - Jimmy Page, Robert Plant |
| 6. | Encore Break - Jimmy Page, Robert Plant |
| 7. | Celebration Day - Jimmy Page, Robert Plant |
| 8. | Black Dog - Jimmy Page, Robert Plant |
| 9. | Rock And Roll - Jimmy Page, Robert Plant |

| | |
| --- | --- |
| 1. | Intro - Jimmy Page, Robert Plant |
| 2. | Thank You - Jimmy Page, Robert Plant |
| 3. | Bring It On Home - Jimmy Page, Robert Plant |
| 4. | Ramble On - Jimmy Page, Robert Plant |
| 5. | Shake My Tree - Jimmy Page, Robert Plant |
| 6. | Intros - Jimmy Page, Robert Plant |

| | |
| --- | --- |
| 7. | Lullaby - Jimmy Page, Robert Plant |
| 8. | No Quarter - Jimmy Page, Robert Plant |
| 9. | Gallows Pole - Jimmy Page, Robert Plant |
| 10. | Hurdy Gurdy Solo/nobody's Fault But Mine - Jimmy Page, Robert Plant |
| 11. | Hey Hey What Can I Do? - Jimmy Page, Robert Plant |
| 12. | The Song Remains The Same - Jimmy Page, Robert Plant |

| | |
| --- | --- |
| 1. | Intros - Jimmy Page, Robert Plant |
| 2. | Since I've Been Loving You - Jimmy Page, Robert Plant |
| 3. | Friends - Jimmy Page, Robert Plant |

| | |
| --- | --- |
| 4. | Calling To You (Dazed And Confused / Break On Through) - Jimmy Page, Robert Plant |
| 5. | In The Evening - Jimmy Page, Robert Plant |
| 6. | Black Dog - Jimmy Page, Robert Plant |
| 7. | Kashmir - Jimmy Page, Robert Plant |
JIMMY & ROBERT PLANT PAGE
BOX
| | |
| --- | --- |
| Label: | LASER MEDIA |
| Cat No: | 1152842 |
| Barcode: | 6583825047336 |
| Packaging: | 6CD Digipak |
Jimmy Page and Robert Plant, recorded and toured in the mid-1990s under the moniker
Page & Plant, having reunited in 1994 for MTV Unplugged, released as a live album.
Following the success of the record, they embarked on a world tour featuring a full
orchestra and performing reworked versions of classic Led Zeppelin songs. In 1998, Page
and Plant released an album of new material. Following the album's release, they embarked
on a final world tour before disbanding at the end of 1998. This 6 disc box set contains radio
broadcasts from the years 1995, 1996 and 1998.