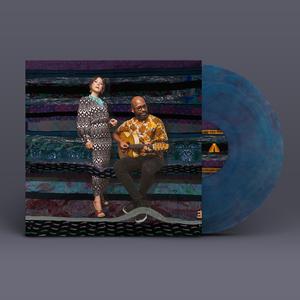 LP released: Jun 23, 2023
| | |
| --- | --- |
| 1. | Akw - Gretchen Parlato, Lionel Loueke |
| 2. | I Miss You - Gretchen Parlato, Lionel Loueke |
| 3. | If I Knew (Featuring Burniss Travis & Mark Guiliana) - Gretchen Parlato, Lionel Loueke |
| 4. | Okagb Interlude - Gretchen Parlato, Lionel Loueke |
| 5. | Astronauta - Gretchen Parlato, Lionel Loueke |
| 6. | Mi Wa Se Interlude (Featuring Marley Guiliana, Burniss Travis, Mark Guiliana) - Gretchen Parlato, Lionel Loueke |
| | |
| --- | --- |
| 1. | Muse - Gretchen Parlato, Lionel Loueke |
| 2. | Nonvignon - Gretchen Parlato, Lionel Loueke |
| 3. | Lean In (Featuring Mark Guiliana) - Gretchen Parlato, Lionel Loueke |
| 4. | Painful Joy - Gretchen Parlato, Lionel Loueke |
| 5. | Dou W Interlude (Featuring Burniss Travis & Mark Guiliana) - Gretchen Parlato, Lionel Loueke |
| 6. | Walking After You - Gretchen Parlato, Lionel Loueke |
GRETCHEN PARLATO
LEAN IN (VINYL)
| | |
| --- | --- |
| Label: | EDITION RECORDS |
| Cat No: | EDNLP1216 |
| Barcode: | 5060509791781 |
| Packaging: | LP Regular |
Lean In is the exquisite new studio album from GRAMMY-nominated singer Gretchen Parlato
and globetrotting guitarist Lionel Loueke - an album that has been twenty years in the
making. Meeting in New York City in the early 2000s the pair discovered that they shared an
intimate musical bond, a beautiful seed which flowered in performances but was not
expressed in the studio, until now! Individually they are internationally renowned, performing
with the best of the best and developing a formidable reputation as prolific, creative and world-class Artists. Together they surpass the sum of their parts and form a partnership that
is inspired and inspiring. Together Gretchen and Lionel invite you to lean in and join them in
the celebration of their musical conjunction.