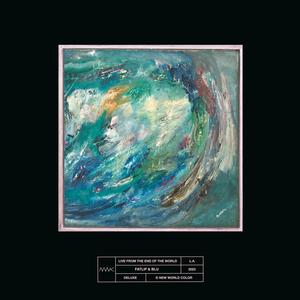 LP released: Jun 23, 2023
(Item no longer available)
| | |
| --- | --- |
| 1. | The Fronts |
| 2. | Good For The Soul (Feat. Hemlock Ernst And Ras Kass) |
| 3. | Street Life (Feat. Mc Eiht) |
| 4. | Gangsta Rap |
| 5. | Cornbread (Feat. Pigeon John) |
| 6. | Hollywood Celebrity (Feat. Bilal) |

| | |
| --- | --- |
| 7. | Lfteotw |
| 8. | Ain't Changed (Feat. Slimkid3) |
| 9. | Crack Party (Feat. J-ro, Akil The Mc, Money-b, Opio, And Del The Funky Homosapien) |
| 10. | Yeah / Lip Outro |
| 11. | Look To The Sky (Feat. Self Jupiter, Chali 2na, And Gift Of Gab) |
FATLIP & BLU
LIVE FROM THE END OF THE WORLD (DELUXE EDITION VINYL)
| | |
| --- | --- |
| Label: | NATURE SOUNDS |
| Cat No: | NSD229LP |
| Barcode: | 822720722914 |
| Packaging: | LP (0.3 g) |
Our supplier has presented this title as available for us to order, we have it on backorder with them awaiting fulfillment. If there are any extended delays your order will be cancelled and refunded in full.
SOLD OUT
N/A
As a member of seminal hip-hop group The Pharcyde, Fatlip helped expand the boundaries of the 1990s L.A.
rap scene, releasing classic albums steeped in eccentric creative excursions rather than hard-edged gangsta
bravado. Following in those footsteps, acclaimed emcee Blu has been at the forefront of the independent
hip-hop landscape since the late 2000s, narrating the full range of experience in the City of Angels with
impressive lyrical ingenuity. These two famed artists recently joined forces for the collaborative album
Live From The End Of The World, a dazzling rhyme whirlwind boasting an overwhelming collection of West Coast
lyrical talent, including Del The Funky Homosapien, Gift Of Gab, MC Eiht, and Ras Kass, along with
members of iconic groups Jurassic 5, Tha Alkaholiks, Souls Of Mischief, Freestyle Fellowship, and Digital
Underground. With production by Madlib, Nottz, Sa-Ra, Knxwledge, and Exile, the album is now available in
physical form for the first time ever. This deluxe release includes two new bonus tracks featuring

Slimkid3 (of The Pharcyde) and Pigeon John.