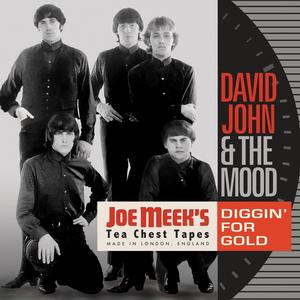 CD released: Jul 14, 2023
| | |
| --- | --- |
| 1. | Bring It To Jerome |
| 2. | I Love To See You Strut |
| 3. | Diggin' For Gold |
| 4. | She's Fine |
| 5. | That Little Old Heartbreaker Me |
| 6. | Bring It To Jerome (Alternative Version) |
| 7. | I Love To See You Strut (Alternative Version) |
| 8. | Diggin' For Gold (Alternative Version) |
| 9. | She's Fine (Alternative Version) |
| 10. | That Little Old Heartbreaker Me (Alternative Version) |
| 11. | Diggin' For Gold (Backing Track, No Vocals) |

| | |
| --- | --- |
| 12. | Bring It To Jerome (Backing Track, No Vocals) |
| 13. | She's Fine (Backing Track, Backing Vocals) |
| 14. | That Little Old Heartbreaker Me (Backing Track, Backing Vocals) |
| 15. | Diggin' For Gold (Backing Track, Backing Vocals) |
| 16. | Pretty Thing |
| 17. | To Catch That Man |
| 18. | Bring It To Jerome (45 Vinyl Dub) |
| 19. | I Love To See You Strut (45 Vinyl Dub) |
| 20. | Diggin' For Gold (45 Vinyl Dub) |
| 21. | She's Fine (45 Vinyl Dub) |
| 22. | Diggin' For Gold (Songwriters' Acetate) |
DAVID AND THE MOOD JOHN
DIGGIN' FOR GOLD: JOE MEEK'S TEA CHEST TAPES
| | |
| --- | --- |
| Label: | CHERRY RED |
| Cat No: | TCTCD5 |
| Barcode: | 5013929790537 |
| Packaging: | CD |
Formed in Preston at the height of the beat/R&B boom, David John & The Mood were led by teenager David Smith, already assured of his place in the footnotes of pop history after his entreaties to the BBC resulted in The Beatles making their TV debut. After attending a Bo Diddley show, Smith put together his own band, quickly snapped up by The Rolling Stones' management for a May 1964 single that featured a maracas-shaking Mick Jagger.
Looking for a slightly different sound, the group then approached Joe Meek, with whom they cut a pair of genre-defining singles before breaking up. Despite collector interest over the ensuing decades, that trio of 1964-65 singles seemed to be the sum total of the group's vinyl legacy.
However, Cherry Red's recent acquisition of the Joe Meek tea chest tapes has revealed numerous alternative versions and works-in-progress recordings as well as a great, previously-unissued interpretation of Bobby Freeman's cult classic blues ballad 'That Little Old Heartbreaker Me'.
All of these discoveries are included alongside those three 1964-65 singles on 'Diggin' For Gold: Joe Meek's Tea Chest Tapes', a definitive anthology that includes a stylish booklet featuring many rare photos and a new essay on the David John & The Mood story. It's an essential purchase for Meek fans and mid-60s garage R&B enthusiasts alike.