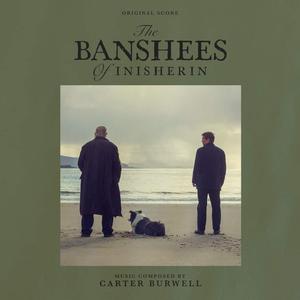 LP released: Oct 20, 2023
| | |
| --- | --- |
| 1. | Polegnala E Todora (2:56) - Performed By The Ensemble Of The Bulgarian Republic |
| 2. | Walking Home Alone (1:17) |
| 3. | Night Falls On Inisherin (0:44) |
| 4. | A Legend (Christ In His Garden) |
| 5. | Performed By John Mccormack |
| 6. | Marking The Calendar (1:09) |
| 7. | The Island Comes To Church (1:09) |
| 8. | The Banshees Of Inisherin (Solo Fiddle) (0:49) - Performed By Brendan Gleeson |

| | |
| --- | --- |
| 9. | Doesn't Time Be Flying (:59) |
| 10. | Standing Prayer (1:29) |
| 11. | Delivering Milk But No News (1:02) |
| 12. | Colm Takes The Reins (2:10) |
| 13. | Padraic Wakes - Driving Into The Rain (1:10) |
| 14. | The First Finger (1:13) |
| 15. | Padraic And Jenny (0:48) |
| 16. | Padraic Keeps Quiet (2:14) |

| | |
| --- | --- |
| 1. | Colm Throws The Balance (1:49) |
| 2. | Siobhan Leaves (1:45) |
| 3. | Jenny And The Fourth (1:53) |
| 4. | Sechs Ges Nge, Op. 7, 5. Die Trauernde (1:33) - Performed By Johannes Brahms, Jessye Norman, Daniel Barenboim |
| 5. | Dark Padraic (1:29) |
| 6. | The Slow Passing Of Time (1:46) |

| | |
| --- | --- |
| 7. | Padraic Leaves The Church (1:02) |
| 8. | The Banshees Of Inisherin (Pub Band) (0:38) - Performed By Brendan Gleeson |
| 9. | Sechs Ges Nge, Op. 7, 3. Anklage (1:57) - Performed By Johannes Brahms, Juliane Banse, Andreas Schmidt, Helmut Deutsch |
| 10. | My Life Is On Inisherin (3:46) |
| 11. | A Smoldering New Day (1:55) |
| 12. | The Mystery Of Inisherin (2:30) |
CARTER BURWELL
THE BANSHEES OF INISHERIN (VINYL)
| | |
| --- | --- |
| Label: | MONDO |
| Cat No: | MOND296B |
| Barcode: | 850010229621 |
| Packaging: | LP (100g) |
A frequent collaborator of THE BANSHEES OF INISHERIN writer/director Martin McDonagh's, Academy Award -
nominated composer Carter Burwell previously worked on three of his films, starting with In Bruges. He also worked on Seven
Psychopaths, as well as his Oscar-nominated score for Three Billboards Outside Ebbing, Missouri, their last collaboration.
For THE BANSHEES OF INISHERIN, McDonagh already had, for one section of the film, a piece in mind that's performed by a Balinese
gamelan ensemble - mostly metallic instruments. Taking that inspiration, Burwell weaved gamelin instruments alongside the score's
three main instruments: the celeste - a keyboard that plays bell sounds, the harp, and the flute to create the film's highly-acclaimed
score.
"The score to Banshees is, like its slow simmering conflict, delicate and nuanced and heartbreaking all at once," said Mondo Creative
Director Mo Shafeek.." It takes small steps backwards and forwards like crashing waves on a lonely island, strings and woodwinds
dancing with one another, in a waltz. The whole score plays like a dance between two overlapping voices - occasionally harmonizing,
but never connecting. Occasionally beautiful, but always a bit melancholy."