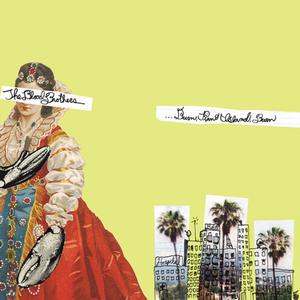 LP released: Oct 06, 2023
| | |
| --- | --- |
| 1. | Guitarmy |
| 2. | Fucking's Greatest Hits |
| 3. | Burn, Piano Island, Burn |

| | |
| --- | --- |
| 4. | Every Breath Is A Bomb |
| 5. | Ambulance Vs Ambulance |
| 6. | Usa Nails |
| 7. | Cecilia And The Silhouette Saloon |

| | |
| --- | --- |
| 1. | Six Nightmares At The Pinball Masquerade |
| 2. | The Salesman, Denver Max |
| 3. | I Know Where The Canaries And The Crows Go |
| 4. | Go Bless You, Blood Thirsty Zeppelins |
| 5. | The Shame |

| | |
| --- | --- |
| 1. | Ambulance Vs Ambulance |
BLOOD BROTHERS
BURN, PIANO ISLAND, BURN (COLLECTORS EDITION YELLOW W/ PINK AND BLACK SPLATTER VINYL+ BONUS 7')
| | |
| --- | --- |
| Label: | EPITAPH |
| Cat No: | 870571YPBS |
| Barcode: | 045778705757 |
| Packaging: | LP + 7in |
Limited Collector's Edition includes the seminal album on exclusive colored vinyl, "Ambulance vs. Ambulance" 7", and expanded 32
page booklet with new liner notes and photos.
Epitaph Records has re-issued The Blood Brothers' classic Burn, Piano Island, Burn on vinyl to celebrate the 20th anniversary of the

band's landmark album. From 1997 to 2007, The Blood Brothers' "molotov mixture of suburb surrealism and sonic extremity" (Alterna-
tive Press, 2003) rocked and riveted critics and fans around the world. Formed in the suburbs of Seattle, the dueling singers Johnny

Whitney and Jordan Blilie along with Cody Votolato (guitar), Morgan Henderson (bass) and Mark Gajadhar (drums) crafted a unique
style of convulsive, ground breaking hardcore that was quickly embraced by critics and fans of punk, hardcore and indie rock. Over
their ten years in existence the quintet released five critically acclaimed studio albums including Burn, Piano Island, Burn, "the most
prolific, beautiful, and vital statement of rock since the Stooges' Raw Power" (PopMatters, 2003).