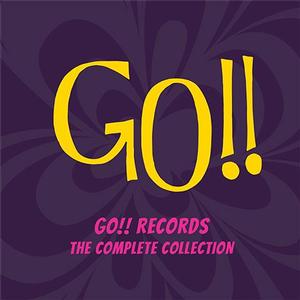 4CD released: Aug 17, 2018
| | |
| --- | --- |
| 1. | I Belong With You - Laurie Allen And Bobby Bright |
| 2. | Trouble In Mind - Laurie Allen And Bobby Bright |
| 3. | Rockin' Robin - The Henchmen |
| 4. | Baby What's Wrong - The Henchmen |
| 5. | Someone (Ain't Right) - Laurie Allen And Bobby Bright |
| 6. | You Are Gone - Laurie Allen And Bobby Bright |
| 7. | It's You - Terry Dean |
| 8. | Stagger Lee - Terry Dean |
| 9. | Talkin' 'bout You - The Rondells |
| 10. | Baby, Don't Hide - The Rondells |
| 11. | Can't You Hear Me Callin' - The Henchmen |
| 12. | Easy Money - The Henchmen |
| 13. | Slow Down Sandy - Billy Adams |
| 14. | Alone - Billy Adams |
| 15. | Funny Man - Bobby Cookson |
| 16. | That Lucky Old Sun - Bobby Cookson |
| 17. | I've Been Trying - The Cherokees |

| | |
| --- | --- |
| 18. | Only If You Care - The Cherokees |
| 19. | Little Boy Sad - M.P.D. Limited |
| 20. | Wendy, Don't Go - M.P.D. Limited |
| 21. | Judy Green - Laurie Allen And Bobby Bright |
| 22. | Mojo Queen - Laurie Allen And Bobby Bright |
| 23. | She'll Never Know - The Rondells |
| 24. | I'll Be Gone - The Rondells |
| 25. | Midnight Bus - Betty Mcquade |
| 26. | Tongue Tied - Betty Mcquade |
| 27. | Lonely Boy - M.P.D. Limited |
| 28. | The Wild Side Of Life - M.P.D. Limited |
| 29. | Little People - Yvonne Barrett |
| 30. | You're The One - Yvonne Barrett |
| 31. | That's If You Want Me To - The Cherokees |
| 32. | Stop This Misery - The Cherokees |
| 33. | I Think I'm Gonna Kill Myself - Billy Adams |
| 34. | Shirley Lee - Billy Adams |

| | |
| --- | --- |
| 1. | Crazy Country Hop - Laurie Allen And Bobby Bright |
| 2. | It Ain't Fair - Laurie Allen And Bobby Bright |
| 3. | On My Mind - Tony And The Shantels |
| 4. | He - Tony And The Shantels |
| 5. | (remember) Walkin' In The Sand - M.P.D. Limited |
| 6. | If You Were Mine - M.P.D. Limited |
| 7. | Here I Go - Peter Briggs And The Vikings |
| 8. | Skinny Minnie - Peter Briggs And The Vikings |
| 9. | The Angels Listened In - The Cherokees |
| 10. | Shame On You, Baby - The Cherokees |
| 11. | The Answer To Everything - Terry Dean |
| 12. | Git It - Terry Dean |
| 13. | Blue Train - Betty Mcquade |
| 14. | Summer Love - Betty Mcquade |
| 15. | Lookin' For Love - Billy Adams |
| 16. | All Time Loser - Billy Adams |

| | |
| --- | --- |
| 17. | Someone Cares For Me - The Field Twins |
| 18. | Temptation - The Field Twins |
| 19. | No Regrets - M.P.D. Limited |
| 20. | I Won't Be Back - M.P.D. Limited |
| 21. | A Woman With Soul - The Cherokees |
| 22. | I'll Give You Love - The Cherokees |
| 23. | From The Shadows To The Sun - Joy Lemmon |
| 24. | Every Day I Have To Cry - Joy Lemmon |
| 25. | Bring It On Home - Peter Briggs And The Vikings |
| 26. | Some Other Guy - Peter Briggs And The Vikings |
| 27. | Absence Makes The Heart Grow Fonder - M.P.D. Limited |
| 28. | I Am What I Am - M.P.D. Limited |
| 29. | Send Her Away - Yvonne Barrett |
| 30. | Won't Someone Say - Yvonne Barrett |
| 31. | Tonight You're Gonna Fall In Love With Me - The Deakins |
| 32. | I'll Make You Mine - The Deakins |

| | |
| --- | --- |
| 1. | The Thought Of You - The Cherokees |
| 2. | Little Lover - The Cherokees |
| 3. | Dancing In Your Eyes - Billy Adams |
| 4. | Come Dance With Me - Billy Adams |
| 5. | Rachael - 18th Century Quartet |
| 6. | Distant Relative - 18th Century Quartet |
| 7. | Prettiest Girl In Town - Laurie Angelo |
| 8. | Find Someone Else - Laurie Angelo |
| 9. | Near Me - The Rhythm Rockets |
| 10. | On Whom Her Favour Falls - The Rhythm Rockets |
| 11. | Whenever A Teenager Cries - Joy Lemmon |
| 12. | Be My Baby - Joy Lemmon |
| 13. | Don't Bother Calling - Yvonne Barrett |
| 14. | I'm Taking Him Back - Yvonne Barrett |
| 15. | Take Me For A Little While - The Deakins |
| 16. | Look And Learn - The Deakins |
| 17. | Change Your Mind - Billy Adams |

| | |
| --- | --- |
| 18. | I Fall To You - Billy Adams |
| 19. | Am I A Lover - 18th Century Quartet |
| 20. | Drawing Room - 18th Century Quartet |
| 21. | Is This A Dream - The Chosen Few |
| 22. | Let Me Down Easy - The Chosen Few |
| 23. | Oh, Monah - The Cherokees |
| 24. | Ain't Gonna Cry No More - The Cherokees |
| 25. | Without You - The Other Ends |
| 26. | Come On, Baby - The Other Ends |
| 27. | Love Me Girl - The Clique |
| 28. | Stop, Look And Listen - The Clique |
| 29. | I Only Want To Be With You - Young Once |
| 30. | For No One - Young Once |
| 31. | Paper Doll - M.P.D. Limited |
| 32. | You Might As Well Forget Him - M.P.D. Limited |
| 33. | Just Wait And See - The Rhythm Rockets |
| 34. | Summer Has Gone - The Rhythm Rockets |

| | |
| --- | --- |
| 1. | Minnie The Moocher - The Cherokees |
| 2. | I've Gone Wild - The Cherokees |
| 3. | Western Union - The Strangers |
| 4. | Cool Jerk - The Strangers |
| 5. | Magic Guitar - Young Once |
| 6. | Before I Go - Young Once |
| 7. | Hey, Hey, Hey - The Bobby James Syndicate |
| 8. | Short Sam - The Bobby James Syndicate |
| 9. | What'cha Gonna Do - The Rondells |
| 10. | Carol Ann - The Rondells |
| 11. | I Can Tell - The Cherokees |
| 12. | Just Can't Cry Anymore - The Cherokees |
| 13. | Lonesome Traveller - M.P.D. Limited |
| 14. | Her Favourite Song - M.P.D. Limited |
| 15. | It's Been A Long Time Coming |

| | |
| --- | --- |
| 16. | I Have No Place To Go |
| 17. | The Glory Of Love - Laurie Allen And Bobby Bright |
| 18. | Hold Me - Laurie Allen And Bobby Bright |
| 19. | Goodnight Irene - Laurie Allen And Bobby Bright |
| 20. | I'm Not A Bad Guy - Laurie Allen And Bobby Bright |
| 21. | Lucky Me - Laurie Allen And Bobby Bright |
| 22. | She Don't Know - Laurie Allen And Bobby Bright |
| 23. | Riding Hood - Laurie Allen And Bobby Bright |
| 24. | I Won't Be Back - Laurie Allen And Bobby Bright |
| 25. | Give All Your Lovin' To Me - Laurie Allen And Bobby Bright |
| 26. | Strange Rain - Laurie Allen And Bobby Bright |
| 27. | You Got It Off Me - Laurie Allen And Bobby Bright |
| 28. | I'll Come Running To You - Laurie Allen And Bobby Bright |
| 29. | Shirley Lee - Justin Anthony And The Impacts |
| 30. | Who's Been Foolin' You - Justin Anthony And The Impacts |
VARIOUS ARTISTS
THE GO!! RECORDS COMPLETE COLLECTION: I'VE GONE WILD!!
| | |
| --- | --- |
| Label: | AZTEC MUSIC |
| Cat No: | AVSCD100 |
| Barcode: | 934334407641 |
| Packaging: | 4CD Digipak |
The Go!! Records Complete Collection presents a massive 130 tracks on four jam-packed CDs - bringing
together, for the first time, every track recorded for the legendary and collectable Go!! Records 1965-1967.
Go!! Records was one of the original, truly independent Australian record companies, set up by the
producers of the TV pop programme The Go!! Show in order to sign and promote releases by local artists
who appeared on the show. There was a core group of acts that appeared on a regular basis, with the show
also featuring many other major local pop stars of the day.
The Go!! label ran as a separate entity, from March 1965 to May 1967, issuing an impressive run of 54
singles, seven EPs and six LPs. The records covered everything from frantic beat pop and chiming classic
pop to tough garage rock and jug band music. Many of the singles were hits which helped establish a
number of significant acts... and what hits they were! 'I Belong with You', 'Someone' and 'Judy Green' by
Bobby and Laurie, 'Talkin' 'Bout You' by The Rondells, 'Rockin' Robin' by The Henchmen, 'It's You' by Terry
Dean, 'Slow Down Sandy' by Billy Adams, 'I've Been Trying', 'The Angels Listened In', 'Oh, Monah' and
'Minnie the Moocher' by The Cherokees, 'Little Boy Sad', 'Lonely Boy' and 'Remember (Walkin' in the
Sand)' by M.P.D. Limited, 'Midnight Bus' by Betty McQuade, 'Little People' by Yvonne Barrett... they're all
here and more!!