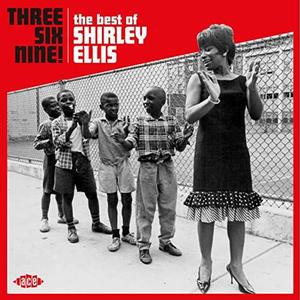 CD released: Apr 27, 2018
| | |
| --- | --- |
| 1. | The Clapping Song (Clap Pat Clap Slap) |
| 2. | The Name Game |
| 3. | The Nitty Gritty |
| 4. | Don't Let Go * |
| 5. | Takin' Care Of Business * |
| 6. | Such A Night * |
| 7. | Get Out * |
| 8. | Kansas City * |
| 9. | (that's) What The Nitty Gritty Is |
| 10. | Bring It On Home To Me |
| 11. | C.C. Rider * |
| 12. | I Never Will Forget * |

| | |
| --- | --- |
| 13. | I See It, I Like It, I Want It * |
| 14. | The Puzzle Song (A Puzzle In Song) |
| 15. | Ka Ta Ga Ta Boom Beat |
| 16. | One Sour Note * |
| 17. | You Better Be Good, World * |
| 18. | Ever See A Diver Kiss His Wife While The Bubbles Bounce About Above The Water? |
| 19. | Birds, Bees, Cupids And Bows |
| 20. | Soul Time |
| 21. | Waitin' |
| 22. | Sugar, Let's Shing-a- Ling |
| 23. | Back Track |
| 24. | Yes I'm Ready |
SHIRLEY ELLIS
THREE SIX NINE!
| | |
| --- | --- |
| Label: | ACE RECORDS |
| Cat No: | CDTOP1516 |
| Barcode: | 0029667087728 |
| Packaging: | CD Regular |
Recorded between 1963 and 1967, two dozen
of the Nitty Gritty Girl's finest recordings for
Congress and Columbia, many written by her
mentor Lincoln Chase.
Includes Shirley's unforgettable signature
hits 'The Nitty Gritty', 'The Name Game', 'The
Clapping Song' and 'Soul Time' (all in
stereo), many other great singles, and
highlights from her "In Action" and "Sugar,
Let's Shing-A- Ling: Soul Time With Shirley
Ellis" albums.
Bumper 24-page booklet features in-depth
notes by Harry Young and a cornucopia of
colourful illustrations, including eight
previously unpublished photos courtesy of
the Sony Music Archives.